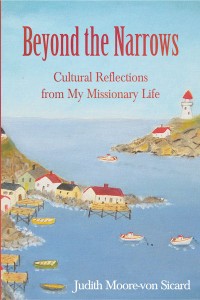 Beyond the Narrows: Cultural Reflections from My Missionary Life
Judith Moore von Sicard
More than a million people take part in short-term mission projects outside North America every year. Many more are involved in cross-cultural missions within North America.
Beyond the Narrows describes the experiences of Judith Moore von Sicard as she leaves Newfoundland and is immersed into the very different cultures of Hartford Connecticut, Egypt, Tanzania, Sweden and England.
With her husband, also a missionary, she raises her three young children in a changing landscape where she appreciates the plight of refugees in Cairo, the strength of community in tribal Tanzania, the formalities of Swedish family life, and the conservative tendencies of England. In each new environment she observes and listens before finding her place as a mentor, teacher, thesis editor, daughter-in-law, missionary wife and finally a teacher of English as a Second Language to immigrants from the communities she's served.
This compelling, inspirational and easy read, is packed with cultural insights and will be enjoyed by Church groups and those who interact with people from different world-views or cultures – aid or mission workers, people working with immigrants and refugees, and teachers of English as a Second Language.
Publisher:  
Bold World Books
ISBN:
978-0-9868528-7-9
Format:
6 x 9 Paperback
Pages:
160
Publication Date:
October 2013
Shipping Weight:
300 grams
Book Price

$24.95 CAD